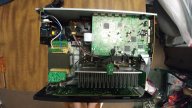 Started working on the AV signal processor / AMP
This this is a real bugger to take apart, never seen JST connectors like this.
Also, the power connectors are not on connectors that remove, they are soldered to the boards.
The vacuum rework station I got worked GREAT. the inline amp chips just fell out with ease but...
oops, the second chip is different than the one you could plainly see si I'll have to amazon another chip before I can put it all back together.
Hopefully I'll remember where all these wires go...meep...